HS - 126
ADJUSTABLE TREATMENT TABLE
Table Height is 375mm to 800mm. Adjustable Head Raising Bed -20 degree to 85 degree. Operating with Remote Control. 24 Volt DC Motor Drive. Bed Size is 2000mm x breadth 750mm.Mattress Thickness 90mm.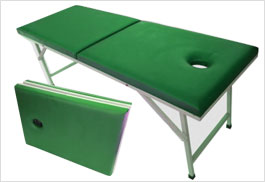 HS - 105
FOLDABLE MASSAGE TABLE
Bed Size 72 inches Length x 27 inches Breadth x 30 inches Height.
Powder coat Fnishing.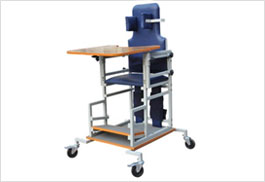 HS - 114
STANDING FRAME WITH CP CHAIR
Seat height,Backrest front,Footrest height and back is adjustable. Activity tray height.The side support of the seat is adjustable. The width and height of the neck support is adjustable for neck arrest.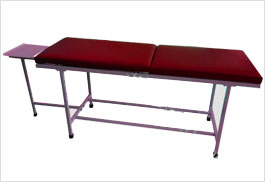 HS - 115
TRACTION TABLE
Two part upholstered Traction Table, with one movable bed and one fixed bed. It is facilitated with a cushioned top.The movable bed is of the size 42" length × 24" breadth. High quality powder coat finish is used for this product.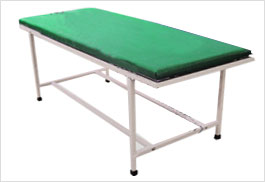 HS - 124
TREATMENT TABLE
This table manufactured with thick and hard CR Pipes. It is facilitated with cushioned top with 90mm thick cushion. High quality powder coat finish is used for this product.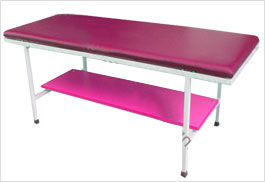 HS - 127
EXAMINATION COUCH
This table manufactured with thick and hard CR Pipes. The table is provided with a rack for the storage purpose. It is facilitated with cushioned top with 90mm thick cushion.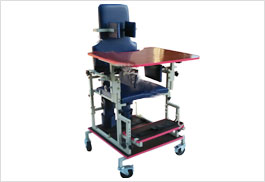 HS - 121
CEREBRAL PALSY CHAIR WITH STANDING FRAME
Seat Height adjustable, Backrest Front & Back adjustable, Activity Tray Height & Front & Back adjustable, Side support,Wheel attached, Neck Support for Neck arrest.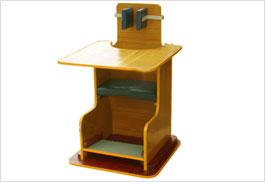 HS - 190
C P CHAIR (WOOD)
Construction: legs & frame of hardwood.laminated top of plywood. box made of teak-ply 2. Finish: Natural polished wood finish. 3. Seat & Foot rest Height adjustable 4. Neck Supported,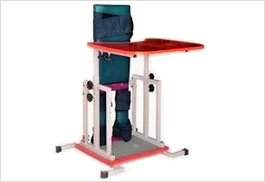 HS - 140
STANDING FRAME
Backrest supporter Height adjustable, leg supporting belt available 4 Nos Chest and stomach supporting belt available 1 No, Detachable rimmed tray for activities and also Height adjustable Non-slip matted foot board.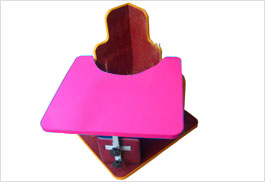 HS - 146
CORNER SEAT
Corner Seat use for cerabral palsy Child
This can use 1 year old to 7 year Child.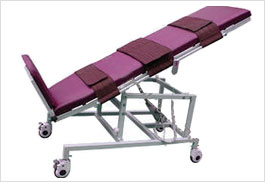 HS - 147
AUTOMATIC TILT TABLE
It has high Quality 24 volt D C motor Drive with Remote Control and also Battery Aprate, Bed Size 78 inches length, 24 inches breadth, Height 29 inches, Degree Indicate 0 to 90 facility.
HS - 153
SUSPENSION FRAME
1 No. Rob bundle.7 Nos. different tension Springs. 3 Nos. Hanging Wheels. 2 Nos. Handles. 6 Nos. Small S model Hooks.4 Nos. Rob adjust Woods.
HS - 155
QUADRICEPS TABLE
Bed (2") High quality Rexin. Angled (5 & 90 degrees) alignment of back rest Adjustable. lever Set is (0 to 360 degree) adjestable. 5 Nos. each 1kg Weight
HS - 164
QUADRICEPS CHAIR
Two Lever Set
10 No. Weight each 1 kg
Back Rest adjestable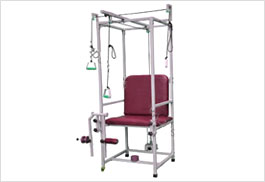 HS - 168
MULTY PURPOSE EXCERCISER CHAIR
Multi Exercise Chair ,Physiotherapy and Rehabilitation Equipment Quadriceps exercise chair is very effective & used tool in the field of Physiotherapy and rehabilitation
HS - 112
SLIDING SEAT
This Sliding Seat machine imitates the normal rowing, for exercise and training. With the help of the sliding seat any body can sit comfortable and stretch their muscles to and fro for rowing.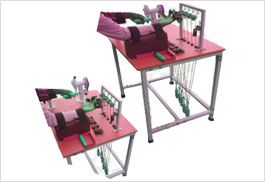 HS - 170
HAND EXERCISE TABLE
It has laminated top fitted with six pulleys in a steel frame loops and nylon rod passing through the pulleys with hanging weight underneath provides opportunity to exercise the interstice and muscles.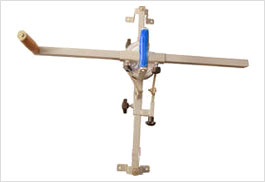 HS - 171
SUPERNATION & PRONATION
Strong construction
Durability
High performance
Height adjestable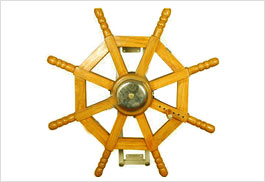 HS - 180
MERAINERS WHEEL
Height adjustable
Rotate Dia Adjustable
Wall Fixing Fecility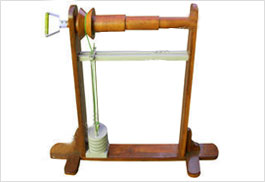 HS - 181
WRIST EXERCISE STAND MODEL
Made up of teak / Padac wood stand with roller in 3 different dimensions fitted with weights and pulley for resistance control suitable for flexion and extension exercise of wrist and forearm.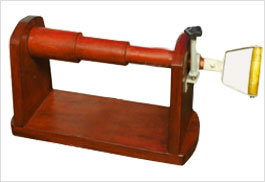 HS - 181
WRIST EXERCISER
Teak/ Padac Wood
Three Various diameter
Handle is also proved for supination and pronation exercise.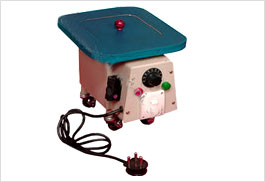 HS - 189
WAX BOX
Works in electricity 230 volts. Special tanks fitted with immersion type heaters. 3kgs Capacity Wax Bath is attached 1000 Watts Heater & Thermostart control, 2 kgs Wax including the 3 kgs Capacity Wax Bath